Landscape Architect Magazine 2022: A Conversation with Envirospec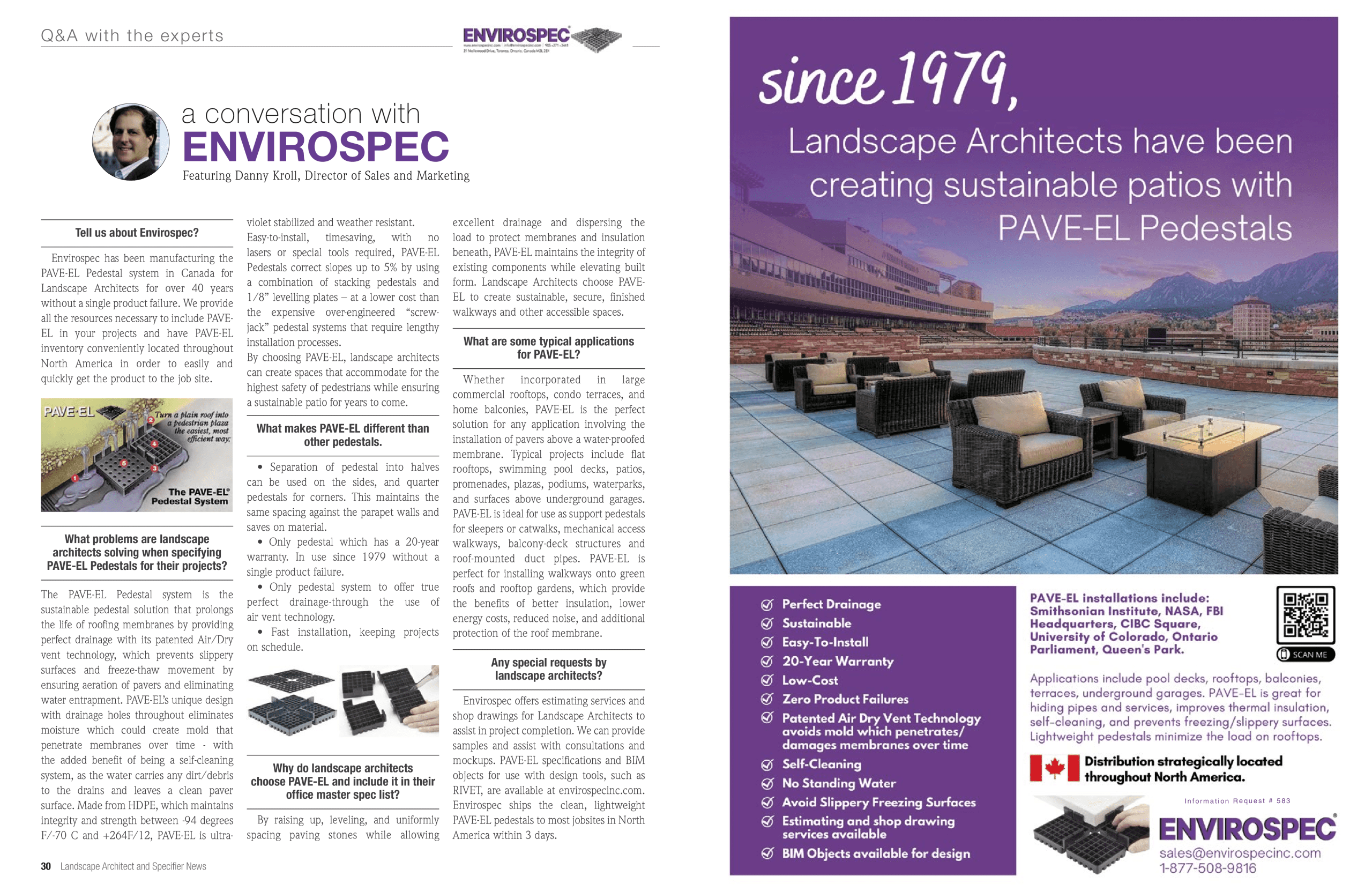 Tell us about Envirospec?
Envirospec has been manufacturing the PAVE-EL Pedestal system in Canada for Landscape Architects for over 40 years without a single product failure. We provide all the resources necessary to include PAVE-EL in your projects and have PAVE-EL inventory conveniently located throughout North America in order to easily and quickly get the product to the job site.
What problems are landscape architects solving when specifying PAVE-EL Pedestals for their projects? 
The PAVE-EL Pedestal system is the sustainable pedestal solution that prolongs the life of roofing membranes by providing perfect drainage with its patented Air/Dry vent technology, which prevents slippery surfaces and freeze-thaw movement by ensuring aeration of pavers and eliminating water entrapment. PAVE-EL's unique design with drainage holes throughout eliminates moisture which could create mold that penetrate membranes over time – with the added benefit of being a self-cleaning system, as the water carries any dirt/debris to the drains and leaves a clean paver surface. Made from HDPE, which maintains integrity and strength between -94 degrees F/-70 C and +264F/12, PAVE-EL is ultra-violet stabilized and weather resistant.

Easy-to-install, timesaving, with no lasers or special tools required, PAVE-EL Pedestals correct slopes up to 5% by using a combination of stacking pedestals and 1/8" levelling plates – at a lower cost than the expensive over-engineered "screw-jack" pedestal systems that require lengthy installation processes.

By choosing PAVE-EL, landscape architects can create spaces that accommodate for the highest safety of pedestrians while ensuring a sustainable patio for years to come.

What makes PAVE-EL different than other pedestals?
• Separation of pedestal into halves can be used on the sides, and quarter pedestals for corners. This maintains the same spacing against the parapet walls and saves on material.
• Only pedestal which has a 20-year warranty. In use since 1979 without a single product failure.
• Only pedestal system to offer true perfect drainage-through the use of air vent technology.
• Fast installation, keeping projects on schedule.
Why do landscape architects choose PAVE-EL and include it in their office master spec list?
By raising up, leveling, and uniformly spacing paving stones while allowing excellent drainage and dispersing the load to protect membranes and insulation beneath, PAVE-EL maintains the integrity of existing components while elevating built form. Landscape Architects choose PAVE-EL to create sustainable, secure, finished walkways and other accessible spaces.

What are some typical applications for PAVE-EL?
Whether incorporated in large commercial rooftops, condo terraces, and home balconies, PAVE-EL is the perfect solution for any application involving the installation of pavers above a water-proofed membrane. Typical projects include flat rooftops, swimming pool decks, patios, promenades, plazas, podiums, waterparks, and surfaces above underground garages. PAVE-EL is ideal for use as support pedestals for sleepers or catwalks, mechanical access walkways, balcony-deck structures and roof-mounted duct pipes. PAVE-EL is perfect for installing walkways onto green roofs and rooftop gardens, which provide the benefits of better insulation, lower energy costs, reduced noise, and additional protection of the roof membrane.

Any special requests by landscape architects?
Envirospec offers estimating services and shop drawings for Landscape Architects to assist in project completion. We can provide samples and assist with consultations and mockups. PAVE-EL specifications and BIM objects for use with design tools, such as RIVET, are available at envirospecinc.com. Envirospec ships the clean, lightweight PAVE-EL pedestals to most jobsites in North America within 3 days.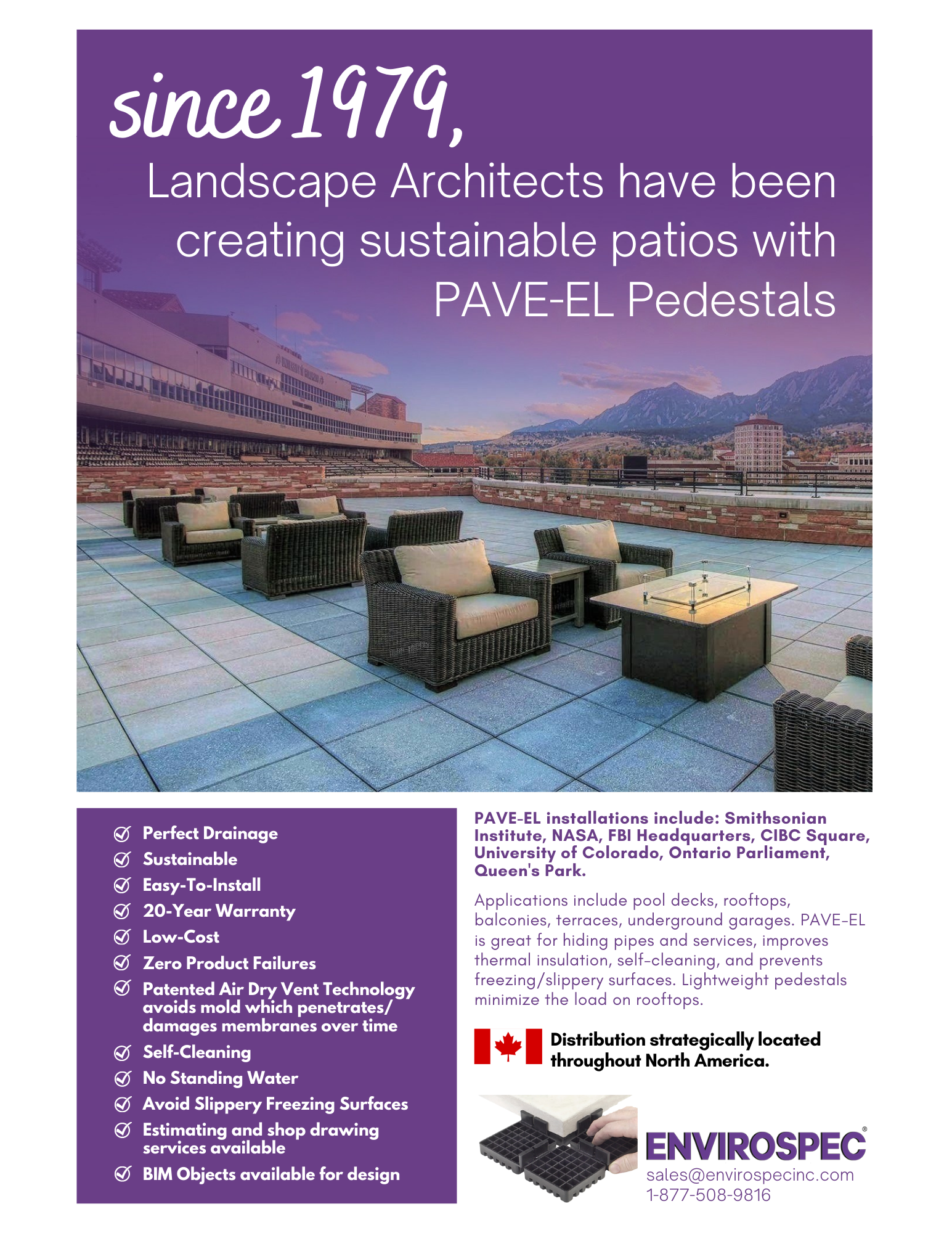 Written by Envirospec Inc