In 1979, PAVE-EL was a product introduced to the world that would change how rooftop environments were created forever!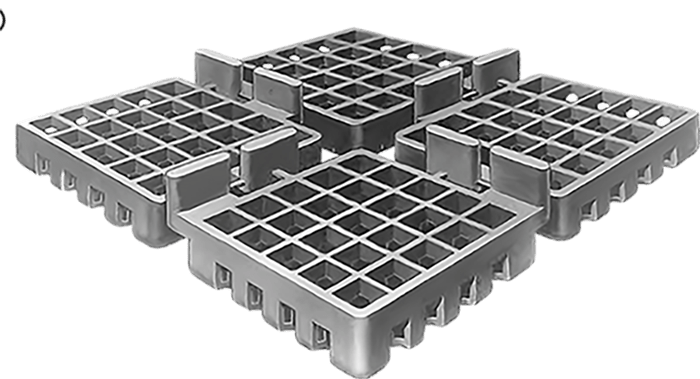 PAVE-EL Pedestal Product Info Video (45 sec)
We Support Putting People On Rooftops!
In 1979, Envirospec's PAVE-EL Paving Stone Pedestal System entered the market
as an innovative solution for creating walkways on flat commercial roofs allowing access to equipment located on rooftops while protecting the roof.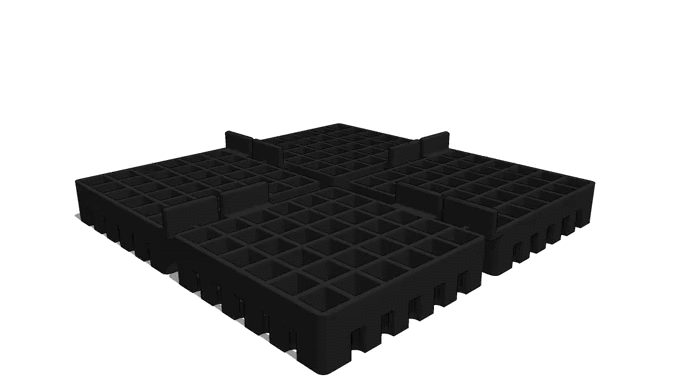 The PAVE-EL Pedestal system quickly caught on. Building rooftop walkways was now quicker, easier and much more cost effective. But there were other important benefits, too.

By utilizing the pedestals to support paving stones, the walkways protected roofs by properly dispersing the weight above and below the pedestal, allowing perfect drainage between and beneath the paving stones, eliminating freeze/thaw damage and avoiding icy surfaces. PAVE-EL Pedestals are designed to meet North American climatic and architectural requirements.
The PAVE-EL system has the capability to correct up to a slope of 5-percent
utilizing custom levelling plates, (which can be stacked up to three plates of 1/8" each), as well as stacking the pedestals (designed to support the bearing weight while stacked).
PAVE-EL Pedestals can be installed directly on all types of flat roof surfaces –
membrane, foam insulation, bitumen board etc., – and no adhesives or pads are necessary for installation.
PLUS… No lasers or special tools are required for installation,
making installation very easy and fast.
PAVE-EL Pedestals Can Be Found In Some Very Well Known Places!
PAVE-EL installations include The Smithsonian Institute, FBI and NASA Headquarters, University of New Mexico, Police and Fire Stations as well as hospitals throughout the US and Canada, Ontario Parliament Buildings and many more. 
Many architects and specification writers have incorporated Envirospec's Pave-El Pedestal system into their toolbox or office spec list, after specifying them and seeing the pedestals in use.
Envirospec's products carry an industry leading 20-year warranty against product defects, and have had zero product failures in over 40 years of use!
PAVE-EL can play important role in today's world…
In cities where there tends to be a lack of open air spaces, PAVE-EL Pedestals can support new rooftop decks, gardens, walkways and other recreational areas
Over the past 40 years PAVE-EL Pedestals have provided an affordable solution for creating new uses for rooftops around the world. But the system is also a great choice when installing water features and perimeters of swimming pools for allowing perfect drainage.
The PAVE-EL system is the pedestal of choice for many government and institutional projects around the world. They have been used to support walkways and patios located between office buildings, preventing ice and slippery surfaces from forming, while providing an attractive patio space for pedestrian use.
Envirospec has warehouses located in Toronto, Vancouver,
Buffalo, NY, and West Pueblo, Colorado
The Pave-El Pedestal system is listed on many architectural specification sites such as ARCAT, Spec Link, CAD Details, and Land F/X, putting the information in places it is readily available to the right people.
Envirospec offers complimentary assistance with estimating and reviewing plans.
We assist with your project from start to finish.
Protected Roof Membrane Insulation Manufacturers Recommend PAVE-EL!
PAVE-EL pedestals are recognized and accepted for use by single-ply membrane manufacturers. For more information about compatibility between membrane and pedestal,
CONTACT US for assistance with your project.
CLICK HERE for RESOURCES that will assist you in designing and specifying PAVE-EL pedestals for projects involving paver stones.
FOR MORE INFORMATION

CALL

1-877-508-9816
EMAIL US at info@envirospecinc.com.
Click Below for Design Resources