Overview of Products and Specifications
Since 1979, Envirospec has been a manufacturer of the innovative PAVE-EL Pedestal system, where it has been included (specified) on thousands of landscaping projects by Architects across the U.S. and Canada, and throughout the world.  With our products used by Architects, Roofers, Landscape Architects, and contractors over the last 40 years, we 
provide the perfect solutions to your rooftop, deck, and patio projects.
Envirospec Inc
Address: 21 Mellowood Dr, North York, ON M2L 2E4
Phone: 1-877-508-9816
Email: info@envirospecinc.com
077600 – PAVE-EL Paver Pedestal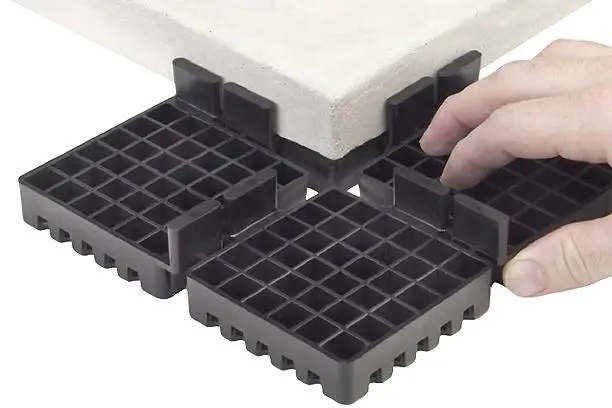 The PAVE-EL paver stone pedestal system, made of resilient, high-density polyethylene, elevates deck surfaces to seperate and provide a drainage plane between pavers and the watterproofed supporting structure below. Designed to meet North American climatic and architectural requirements, it is ideal for single-ply membrane applications, protected membrane deck applications, and support pedestals or sleepers used in catwalks, mechanical access walks, balcony deck structures, and roof-mounted piping.
Model Sizes – 4X, 5X, 6X, 7X


A Paver Solution for Everybody

ARCHITECTS
Sustainable and long-lasting design
Used to beautify hundreds of commercial and home projects worldwide since 1979
Easily integrates with any existing flat surface design

CONTRACTORS
Easy and simple installation: no lasers or tools needed!
Complimentary assistance with estimating and reviewing plans

SPECIFIERS
Specified by architects and designers globally
25-year warranty & zero product failures in over 40 years of use!
Supports any walkway, patio, rooftop for pedestrian use

HOMEOWNERS
Perfect for DIY home renovations: no special tools required for installation
Consultation service provided from preliminary design through to product application